Why You Should Winterize Your Pool
The Northwest Arkansas winters may be relatively mild, but they still signal the end of pool weather. Learn more about why you should winterize your pool, how it is done and also how Burton Pools & Spas can provide excellent, full-service winterization at a great price thanks to our limited-time fall offer.
Why Winterize Your Pool
You will want to close your pool properly over the winter to prevent freezes from damaging expensive pool equipment. Surface freezes can also tear through vinyl liners as a result of ice expansion. A second reason to winterize your pool is because most people completely stop maintenance over the winter. Having a pool covered and without running filter can allow algae, bacteria and chemical residues to build up over several months. Naturally, all of these problems can be quite expensive to fix. They are also the last thing you want to contend with when the weather is nice again in the spring and you want to open the pool back up.
How To Winterize Your Pool
Pool winterization is a long, arduous process that involves many steps. Most of the steps also have to be modified to take into account your pool's specific site location, volume and chemical tendencies.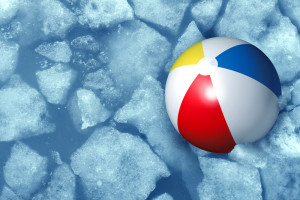 The water chemistry must be perfectly balanced, including pH, alkalinity and water hardness. A large dosage of either chlorine or non-chlorine shock is then usually added fro extra long-term stability.
All equipment is removed, including skimmer baskets, ladders and wall fittings.
The pool water is pumped out 3' - 18' to lower the level enough so that the cover can remain tight-fitting and stable.
All pimps, filters and other equipment must be completely drained.
Pump O-rings are typically lubricated.
The pool is completely cleaned of all debris, vacuumed and brushed.
All equipment lines are either blow dried of filled partially with antifreeze then plugged.
Winterizing algaecide is added only once the shock chlorine levels have reduced to normal.
A tight-fitting, child-and-animal-safe cover id added along with some sort of floating device to keep the cover aloft and to prevent ice expansion.
Skip The Hassle with Burton's Fall Winterization Special
If all these steps sounds like to much work, then you are not alone. Out two locations in Northwest Arkansas are always busy with eager customers at this time of year. Burton Pool & Spa's winterization packages are quite popular because we take all of the stress and guesswork out of closing your pool.
For just $139.00 we will completely blow out your lines, plug them, drain all equipment and balance your pool's chemistry perfectly.
For an additional $40, we will apply a pool cover so that it remains stable, safe and effective all winter long.
Above ground pools get an even deeper discount. It only costs $109.00 for the full winterization service with an additional $20 cover application fee. Since winching above-ground pool covers properly can be intense physical labor, this service is greatly appreciated by our customers.
Finally, we can change out your sand filter sand and replace it with clean, dry sand ready for spring swimming at reduced prices of up to $100 off, depending on the size and type of sand filter you use.
We know that you will appreciate the work we put in to winterize your pool for you when it comes time to reopen it for you spring swimming weather. Give us a call or visit our cleaning service page to let us know how we can make your pool practically maintenance free for months at at time, but hurry because this fall special ends come November 1st!
ABOUT BURTON POOLS & SPA
For 37 years, Burton Pools & Spas has been the premier provider of swimming pools, hot tubs, and outdoor recreation equipment in Western Arkansas, Eastern Oklahoma, Southwest Missouri and just about everywhere in between. Burton Pools creates beautiful backyard environments that brings friends and families together for outdoor fun and memories that will last a lifetime.
For more award-winning pool design ideas, pool maintenance and outdoor living tips, subscribe to Burton Pools and Spas latest news and follow them in Facebook, Twitter, Pinterest, and Google+.
Are you're ready to take your backyard to the next level? Sign up now and get the free ebook on "How to Plan the Perfect Backyard" or contact Burton Pools & Spa today.