Water Features That Perfectly Complement a Modern Geometric Pool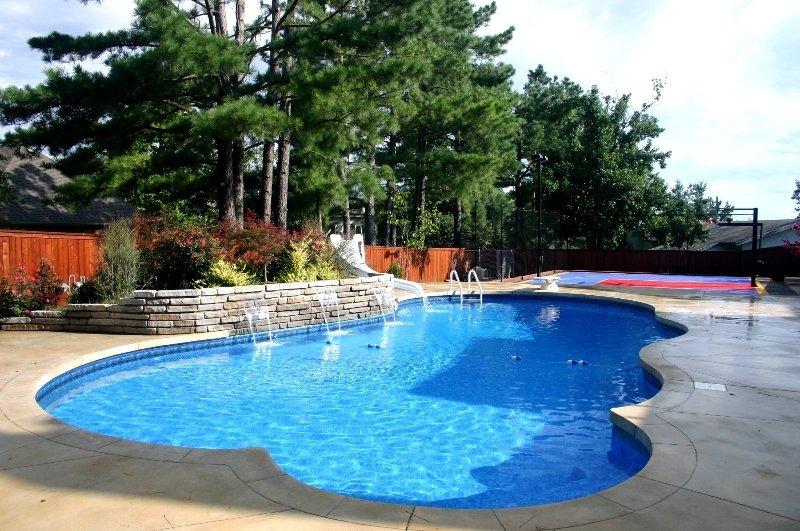 Geometric pools have quickly climbed the ranks in pool popularity and are now among one of the most commonly found pool designs in Fort Smith backyards today. Being nearly as flexible as a freeform pool but offering flattering and well defined lines and edges, some water features tend to complement geometric poolscapes more than others. Below are just a handful of the water features you may want to consider for your modern pool:
Feature #1: Scuppers
Scuppers are a staple water feature for almost every geometric pool design. The appearance of this water feature can vary from incredibly simplistic to ornate and complicated. Many pool owners will choose to incorporate scuppers:
Within planter boxes

Along a raised spa (the spa is usually attached)

Along walls which border the pool
This water feature is typically incorporated in pairs or sets of three, though pool owners can choose to have as many as necessary for the desired audible and visual effect.
Feature #2: In-Pool Fountains
This water feature may have taken a backseat in recent years to other new cutting edge options, but it is making strong comeback as geometric pools increase in desirability. The in-pool fountain brings an element of sophistication and opulence while still being an incredibly fun feature for kids and adults alike.
Feature #3: Sheer Descent Waterfalls
Arguably the most complimentary water feature to the geometric pool given its matching crisp lines is the sheer descent waterfall. Unlike the typical bubbling rock waterfall which often accompanies freeform pools, the sheer descent provides a smooth cascade of water that continuously pours into the pool. Not only is it a visual delight, but many include this waterfall in their pool designs because of its therapeutic qualities.
Looking for more ideas? Take a look at our photo gallery for more inspiration on you next pool design project!
About Burton Pools & Spa
For 37 years, Burton Pools & Spas has been the premier provider of swimming pools, hot tubs, and outdoor recreation equipment in Northwest Arkansas, Eastern Oklahoma, Southwest Missouri and just about everywhere in between. Burton Pools creates beautiful backyard environment that brings friends and families together for outdoor fun and memories that will last a lifetime.
For more award-winning pool design ideas, pool maintenance and outdoor living tips, subscribe to Burton Pools & Spas latest news and follow them in Facebook, Twitter,Pinterest, and Google+.
Are you're ready to take your backyard to the next level? Sign up now and get the free ebook on "How to Plan the Perfect Backyard" or contact Burton Pools & Spa today.