Burton Pools and Spas Receives Retail Excellence Award from Hot Spring® Spas
As the saying goes, "Your customers doesn't care how much you know until they know how much you care." That is why Burton Pools & Spas put customer satisfaction above all things and ensure quality pool service at all cost. With this in mind, Burton Pools & Spas was recognized as a 2014 Retail Excellence award winner for Customer Satisfaction by Hot Spring® spas, the world's number one-selling brand of hot tubs. Burton Pools and Spas was honored at the 2015 Hot Spring Kick-Off meetings, which were held in January.
"Caleb Burton, VP of Burton Pools & Spas, earned this distinguished award from among all Hot Spring retailers in North America for their exceptional achievement in a specific area of their business," says Mike Dunn, Executive Vice President of Hot Spring Spas.
"The dealers who consistently provide the highest level of customer service are positive, accommodating team players who are willing to go the extra mile to help the customer. And that describes our winner to a "T." If they encounter a challenging situation, they take ownership of the issue and, when necessary, work closely with the Watkins Customer Service Team to assure that their customers always receive the best care," says Brian Ricci, Vice President of Marketing, North America, during the awards night. "We only hear good customer feedback about them, never complaints, and our Watkins Customer Service Team describes the quality of their service as "stellar", he added.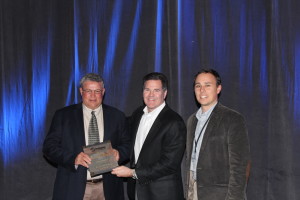 Burton Pools & Spas has been recognized numerous times over the years for their superior pool design and construction and exceptional pool service.
Burton Pools & Spas is a premier pool builder as well as provider of hot tubs, and outdoor recreation equipment. They serve Western Arkansas, Eastern Oklahoma, Southwest Missouri and just about everywhere in between. The company's mission is to create beautiful environments that bring families together and help them enjoy fun outdoor activities in the comfort of their own backyard. For more information about Burton Pools & Spas, visit http://www.burtonpools.com/.
About Watkins Manufacturing Corporation
Watkins Manufacturing is the world's leading manufacturer of hot tubs world-wide with more than 1 million hot tubs sold. Hot Spring Spas are sold through an independent network of dealers across North America and in more than 70 countries around the world. Watkins is a division of Masco Corporation, a Fortune 500 company whose trusted home brands include Delta® faucets, KraftMaid® cabinets, and Behr® paint.
ABOUT BURTON POOLS & SPA
For 37 years, Burton Pools & Spas has been the premier provider of swimming pools, hot tubs, and outdoor recreation equipment in Western Arkansas, Eastern Oklahoma, Southwest Missouri and just about everywhere in between. Burton Pools creates beautiful backyard environments that brings friends and families together for outdoor fun and memories that will last a lifetime.
For more award-winning pool design ideas, pool maintenance and outdoor living tips, subscribe to Burton Pools and Spas latest news and follow them in Facebook, Twitter, Pinterest, and Google+.
Are you're ready to take your backyard to the next level? Sign up now and get the free ebook on "How to Plan the Perfect Backyard" or contact Burton Pools & Spa today.