Tips for Enjoying Your Hot Tub in Winter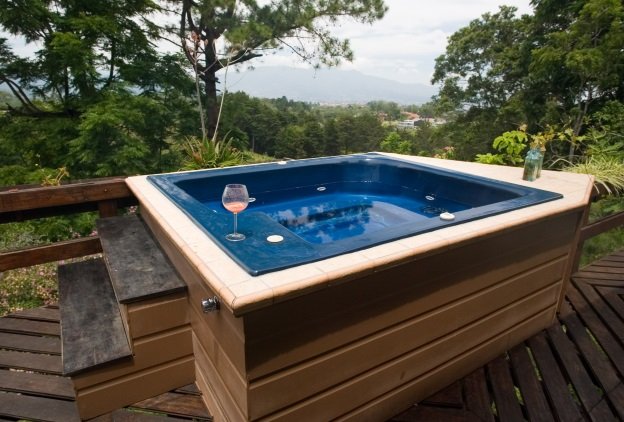 The thought of sitting in a relaxing hot tub as the snow falls from above may seem idyllic, but braving the elements to get into the hot tub might scare you away from enjoying the relaxation and therapeutic benefits it provides.
But staying warm and comfortable before, during and after a well-deserved soak in the warm water of your hot tub is quite doable if you follow this simple advice.
 How to Properly Prepare for Your Soak
There are a few things you can do to ensure a soothing and relaxing hot tub experience before you get in the tub:
Before You Get in the Hot Tub
Shovel and salt the path to the hot tub -

This ensures you will not slip on your way to the hot tub.

Apply moisturizer to exposed skin and lip balm to your lips.

 This will protect your skin from being over-exposed to the colder elements.

Put on a robe and pair of sandals or slippers to provide a barrier between your skin and the elements.

 This will reduce the amount of time it takes for your body to adjust to the temperature of your tub. Having sandals or slippers will also provide additional slip resistance.

Place fluffy towels in the dryer for a couple of minutes and store them nearby so they stay heated.

 This way you will have a warm towel to wrap yourself in after you exit your hot tub.

Grab a hot beverage before you slip in for a soak.

 Use a Styrofoam or plastic cup to avoid any broken glass.
While in the Hot Tub
During your time in the hot tub, consider the following:
Wear a hat during your soak.

 This will help prevent heat loss, particularly after you exit the tub.

Use your jets and blowers conservatively.

 Both will inject cool air into your water and will rapidly reduce the temperature of your hot tub.  Use them sparingly and make sure they are turned off after you leave the tub.

Stay in the tub for 20 minutes at a time.

 If the water temperature is over 100° F, you should only use the tub in 20 minute increments.  If the temperature is lower, you can extend the amount of time you spend in the tub.
When Exiting the Hot Tub
You can increase your comfort when exiting the hot tub by:
Having an outdoor heater nearby.  

This will increase the air temperature near the hot tub.

Wrap yourself in a warmed towel or robe.  

You'll be thankful that you took the extra few minutes to warm it up in the dryer!

Keep your hot tub covered.

 A well-insulated cover will help reduce your hot tub's energy requirements.  Make sure any excess snow or rain is removed from the top of the cover so that the water underneath stays warm.
You deserve to enjoy the therapeutic benefits of your hot tub year round, and we hope that with these tips you will make it a point to enjoy a soak regardless of the weather outside.
About Burton Pools & Spa
For 37 years, Burton Pools & Spas has been the premier provider of swimming pools, hot tubs, and outdoor recreation equipment in Western Arkansas, Eastern Oklahoma, Southwest Missouri and just about everywhere in between. Burton Pools creates beautiful backyard environment that brings friends and families together for outdoor fun and memories that will last a lifetime.
For more award-winning pool design ideas, pool maintenance and outdoor living tips, subscribe to Burton Pools and Spas latest news and follow them in Facebook, Twitter,Pinterest, and Google+.
Are you're ready to take your backyard to the next level? Sign up now and get the free ebook on "How to Plan the Perfect Backyard" or contact Burton Pools & Spa today.