A Swimming Pool for Any Backyard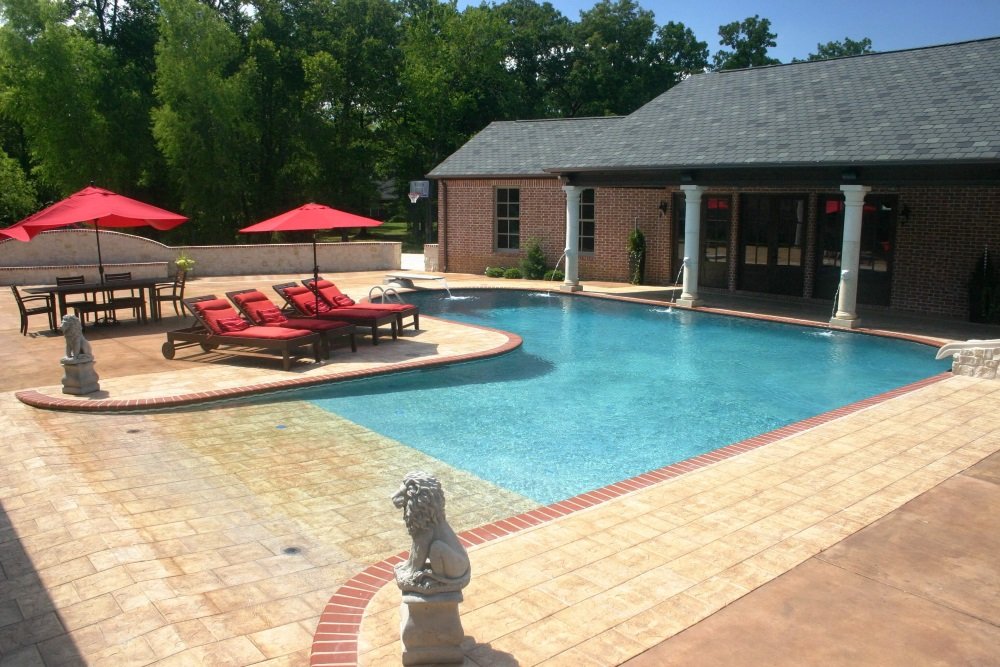 Swimming pools are not one-size fits all; there are various types that work well for different situations. If you're in the market for a new swimming pool, be sure you do your research before deciding, and let the professionals at Burton Pools help you decide what pool is the perfect fit for your backyard.
Inground Gunite Pools
First, an inground gunite pool is a great place to start when reviewing pool types. These pools are made by mixing cement, sand and water, and then spraying the mixture through a pressure hose. This produces a dense layer of concrete that serves as the pool's foundation.
An inground gunite pool has many benefits, including:
They are highly durable.

They can be completely customizable when it comes to shape and size.

You can choose a variety of features to add to the pool, making it as ornate as you'd like.
Fiberglass Pools
Another option to go with is an inground fiberglass pool. Fiberglass is a material made from weaved pieces of glass threads and coated with a polyester resin. They also come ready in one piece, with a variety of shapes available.
The benefits of inground fiberglass pools do not disappoint:
They can be installed very quickly – sometimes in just a few days!

Fiberglass pools do not require resurfacing or liner replacement.

You can install fiber optic lights for those late-night swims.
Vinyl Liner Pools
Not interested in either of those types? Don't worry because an inground vinyl liner pool is a great decision, as well. These pools are made by covering a sand or cement floor with a measured piece of vinyl over the top.
Here are some of the awesome benefits of inground vinyl pools that you can't pass up:
The vinyl is very smooth and will not crack like a traditional cement pool.

They are usually less expensive than a fiberglass or gunite pool.

They are flexible, which means that you can have almost any shape for your pool.
Above Ground Pools
If you're still not feeling any of these options, then an above ground pool may be the best option for you. These pools are pre-made and installed in your backyard without any digging or excavation. That's right, you can put it almost anywhere in your backyard and even move it around if need be.
There are benefits of above ground pools that inground pools just don't have:
They are usually the most cost-effective option for a pool.

They're made tough – they can survive harsh winters and you can winterize the equipment pieces and bring them inside.

They come in a wide variety of sizes made to work in almost any backyard.
No matter which pool type you choose, owning a pool is fun for you and the whole family. At Burton Pools & Spas, we'll work to match you with a pool that will fit your needs. We carry inground gunite, inground fiberglass, inground vinyl, and above ground pools. With hundreds of options to choose from, you're sure to find the pool that works for you. Contact us today to set up a consultation with one of our pool experts!
About Burton Pools & Spa
For 37 years, Burton Pools & Spas has been the premier provider of swimming pools, hot tubs, and outdoor recreation equipment in Northwest Arkansas, Eastern Oklahoma, Southwest Missouri and just about everywhere in between. Burton Pools creates beautiful backyard environment that brings friends and families together for outdoor fun and memories that will last a lifetime.
For more award-winning pool design ideas, pool maintenance and outdoor living tips, subscribe to Burton Pools and Spas latest news and follow them in Facebook, Twitter,Pinterest, and Google+.
Are you're ready to take your backyard to the next level? Sign up now and get the free ebook on "How to Plan the Perfect Backyard" or contact Burton Pools & Spa today.