Pool Safety Covers Are A Smart Investment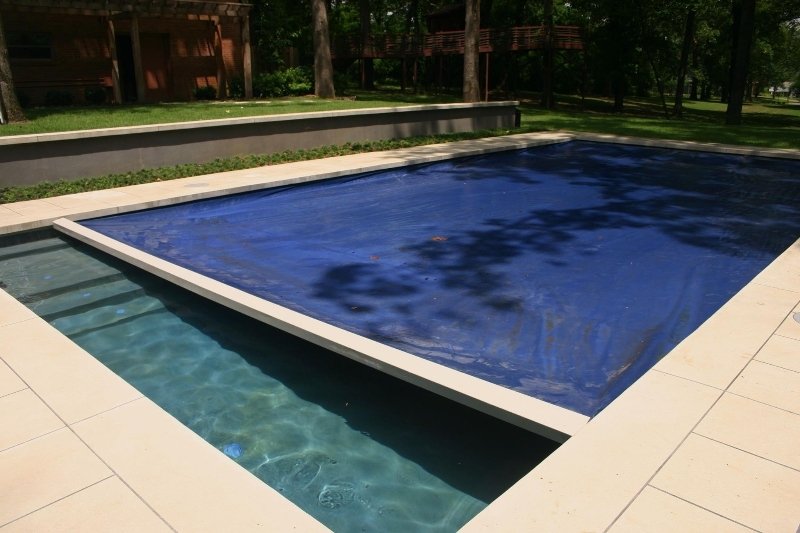 When planning for a pool, we often think about the size, the shape and the features we would like for it to have. One item that is often left off of the list is the pool safety cover.
Some pool owners may consider a pool safety cover to be an unnecessary expense or "bonus" feature. But these covers alone have saved the lives of hundreds of young children, pets and wildlife.
Advantages of Fort Smith Pool Safety Covers
Pool safety covers are designed to support thousands of pounds, often being able to support as much as the weight of a baby elephant! Not only does a properly secured pool safety cover make your pool impenetrable, but they also look great and are low maintenance.
Pool safety covers also provide the following additional benefits:
Pool safety covers will decrease the amount of time you spend maintaining your pool and increase the amount of time you can spend enjoying it.  Pool covers slow or eliminate pool water elimination, reduce chemical usage, help keep algae and bacteria at bay, and they effectively prevent branches, leaves and other debris from entering your pool.
Reduce Pool Operation Expenses
Being able to save on water and chemicals are just two ways a pool safety cover will help you reduce operation costs. Because the cover retains the heat of your pool water, you can reduce the amount of money you would otherwise spend on the gas or electricity used to heat your pool.
Whether you opt for a manual or automatic pool safety cover, they are quick and easy to use. Automatic pool covers can be opened and closed within mere seconds, all with a simple flick of a switch or a push of a button.
Explore Your Pool Safety Cover Options with Burton Pools & Spas
Burton Pools & Spas offers a large selection of pool safety covers that will keep your Fort Smith pool secure while saving you money in the long term.
Right now, you can get a FREE winterization ($180 value) when you purchase a new safety cover from us! Call us today at 800-667-9180 to learn more!
About Burton Pools & Spas
For 37 years, Burton Pools & Spas has been the premier provider of swimming pools, hot tubs, and outdoor recreation equipment in Northwest Arkansas, Eastern Oklahoma, Southwest Missouri and just about everywhere in between. Burton Pools creates beautiful backyard environment that brings friends and families together for outdoor fun and memories that will last a lifetime.
For more award-winning pool design ideas, pool maintenance and outdoor living tips, subscribe to Burton Pools & Spas latest news and follow them in Facebook, Twitter,Pinterest, and Google+.
Are you're ready to take your backyard to the next level? Sign up now and get the free ebook on "How to Plan the Perfect Backyard" or contact Burton Pools & Spa today.