Outdoor Living Ideas: Summer Staycation in Your Backyard
Are you tired of the normal lunch and movie or strolling at the mall dates with your family and friends? Now is the perfect time to plan that much-awaited vacation. These outdoor living ideas can be the best alternative to the usual vacation getaway. While it is good to get out of the house every once in a while, going out can put a strain on the family budget.
Staying in can be twice as fun and a good way to save money. You won't have to spend money on gas, get stuck in traffic or look for parking. There are many areas where you can spend your summer vacation without having to spend more right in your own backyard. The possibilities are endless.
Movie screening
Turn family time into an occasion by holding a premiere screening of a family blockbuster movie. You can watch the movie on your patio or even while soaking in your hot tub. To add some excitement, download an image or poster of the movie you will be watching and create your own poster with the date, time and venue of the event. Serve chips, popcorn and sodas just like in a typical movie theatre.
Camping
Summer time is camping time. Many camps are full during this time. So why spend time finding camps when you can have your own camping event in your backyard. At night, you can grill some hotdogs and marshmallows and take turns sharing ghost stories.
Barbecue Party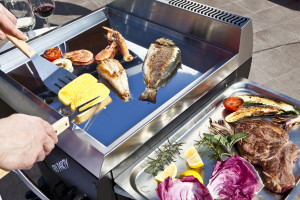 Barbecues are the best in summer. Although you can always hold a barbecue anytime, the atmosphere is simply perfect during summer. Invite your friends over and have them bring their own recipe for grilling.
Whichever way you want to do it, staying at home and enjoying the best of summer with your family and friends can always create some wonderful summer memories.
For more backyard parties and outdoor living ideas, like us on Facebook.
ABOUT BURTON POOLS & SPA
For 37 years, Burton Pools & Spas has been the premier provider of swimming pools, hot tubs, and outdoor recreation equipment in Western Arkansas, Eastern Oklahoma, Southwest Missouri and just about everywhere in between. Burton Pools creates beautiful backyard environments that brings friends and families together for outdoor fun and memories that will last a lifetime.
For more award-winning pool design ideas, pool maintenance and outdoor living tips, subscribe to Burton Pools and Spas latest news and follow them in Facebook, Twitter, Pinterest, and Google+.
Are you're ready to take your backyard to the next level? Sign up now and get the free ebook on "How to Plan the Perfect Backyard" or contact Burton Pools & Spa today.