What Makes a Hot Spring Spa Different?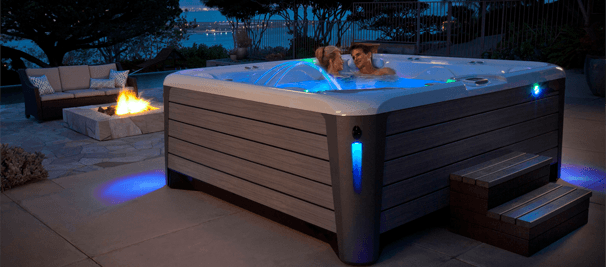 Are you interested in investing in a hot tub but aren't sure which hot tub to choose? While many hot tubs have similar features, the unique features of our Hot Spring hot tubs here at Burton Pools & Spas have taken our tub selection to a whole new level.
A Revolutionized Approach to Hydrotherapy
When you choose a Hot Spring hot tub, you have the option of choosing the popular Moto-Massage DX® jet. This jet delivers a dual stream of powerful, soothing warm water and moves up and down your entire back so that you enjoy a deep, thorough massage.
Our tubs may also be outfitted with a variety of other jets, including:
SoothingStream® Jet:

A 12 port jet that sends out a strong stream of water targeted towards your shoulders and upper back

JetStream® Jet:

A powerful jet designed to relieve aching feet and ease away back tension

Rotary Hydromassage Jet:

A rotating jet that provides targeted areas with a deep massage
Exclusive Features Keep Maintenance to a Minimum
Depending on the model you choose, your hot tub may come with a variety of water systems which allow you to spend more time relaxing and less time worrying about cleaning.
Our leading Ace® Salt Water System generates chlorine and other cleaning agents automatically through the use of a patented diamond electrode. This system is popular because it softens the spa water, reduces dry skin and causes less eye irritation.
We also offer the Everfresh® Water Care System which pairs together an easy to use high-output ozone system with a continuous silver ion purifier and a non-chlorine oxidizer. The result: crystal clear and clean water that uses only a fraction of the amount of chlorine in comparison to other water care systems.
Finally we are the only company to offer 100% no-bypass filtration by outfitting many of our units with Tri-X® filters. These filters are also dishwasher safe, making them significantly easier to clean than traditional filters.
Are You Ready for a Hot Spring Hot Tub?
Experience a whole new level of relaxation and hydrotherapy with a Hot Spring hot tub. Operating out of Arkansas, you can contact Burton Pools & Spas in Fort Smith at (479) 648-3483 and in Springdale at (479) 756-5511 to learn more.
About Burton Pools & Spa
For 37 years, Burton Pools & Spas has been the premier provider of swimming pools, hot tubs, and outdoor recreation equipment in Northwest Arkansas, Eastern Oklahoma, Southwest Missouri and just about everywhere in between. Burton Pools creates beautiful backyard environment that brings friends and families together for outdoor fun and memories that will last a lifetime.
For more award-winning pool design ideas, pool maintenance and outdoor living tips, subscribe to Burton Pools and Spas latest news and follow them in Facebook, Twitter,Pinterest, and Google+.
Are you're ready to take your backyard to the next level? Sign up now and get the free ebook on "How to Plan the Perfect Backyard" or contact Burton Pools & Spa today.