Hot Tub Maintenance Checklist
Owning a hot tub is a joy. It provides great relaxation and health benefits from the powerful jets, and it's something the entire family can enjoy. As part of owning a hot tub, it is important to ensure you perform regular hot tub maintenance to keep it working smoothly. This can help prevent the need for service or repair and extend the service life of your hot tub. If you are a hot tub owner or thinking about getting one the following is a valuable list in caring for your hot tub.
TEST YOUR WATER
As with a pool, you need to regularly test the water in your hot tub. Test it once a week to check pH levels. Safe pH levels range from 7.4 to 7.8. If the pH level is too low it will make your hot tub acidic which isn't good for your hot tub or your health. Acidic water will cause problems to your hot tub especially, especially those that are made of metal. It will etch and corrode any metal (heater example) it comes in contact with. On the other hand, high pH level will cause scale and cloudy water. This scenario will cause breakdown of any plastic or rubber components within the tub surface or inside plumbing lines. Burton Pools offers water testing; you can bring your water to the lab and have it tested!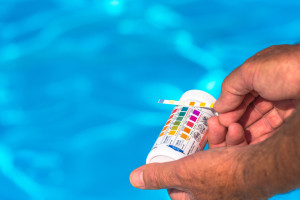 SANITIZE YOUR WATER
Did you know that the heated water of a hot tub is more prone to bacteria and algae growth that a standard swimming pool? Due to this, it is very important to sanitize your hot tub regularly to kill the bacteria, viruses and prevent the growth of algae. There are various sanitizing products used based on recommendations by the hot tub manufacturers but the most common are bromine and chlorine.
CLEAN THE EXTERIOR
While you pay attention to the interior aspect of your tub, it's also important to take the time to clean the exterior. Wipe down the outside of the hot tub using a non-abrasive, mild and non-sudsing cleaner with a soft rag to prevent dirt buildup from evaporated water and to remove water spots as well. Make sure to check your manual as sometimes there are specific and special cleaning instructions provided depending on the exterior material of your hot tub. Wipe down the cover or spray it off with a hose once every week at least.
CLEAN THE INTERIOR
You will occasionally need to drain your hot tub. When this occurs, take the opportunity to clean the interior aspect of the hot tub. Use mild soap or special recommended cleaners to wipe away any debris or buildup inside your hot tub. This should be done on a regular basis to ensure you retain the beauty and the functions of your hot tub.
Keeping your hot tub in top shape is not an overly complicated process. Just be sure to keep an eye on the cleanliness of your hot tub and test the water regularly. In the event you experience a mechanical problem or leak, you should always allow a professional hot tub technician to solve the issue.
The more you use your hot tub, the more important it is to ensure you follow through with regular hot tub maintenance. If you have any questions about maintaining your hot tub or think you may need your hot tub serviced, contact the professionals at Burton Pools today. Their friendly staff would love to help you get your hot tub working again!
ABOUT BURTON POOLS & SPA
For 37 years, Burton Pools & Spas has been the premier provider of swimming pools, hot tubs, and outdoor recreation equipment in Western Arkansas, Eastern Oklahoma, Southwest Missouri and just about everywhere in between. Burton Pools creates beautiful backyard environments that brings friends and families together for outdoor fun and memories that will last a lifetime.
For more award-winning pool design ideas, pool maintenance and outdoor living tips, subscribe to Burton Pools and Spas latest news and follow them in Facebook, Twitter, Pinterest, and Google+.
Are you're ready to take your backyard to the next level? Sign up now and get the free ebook on "How to Plan the Perfect Backyard" or contact Burton Pools & Spa today.