Fort Smith New Pool Installation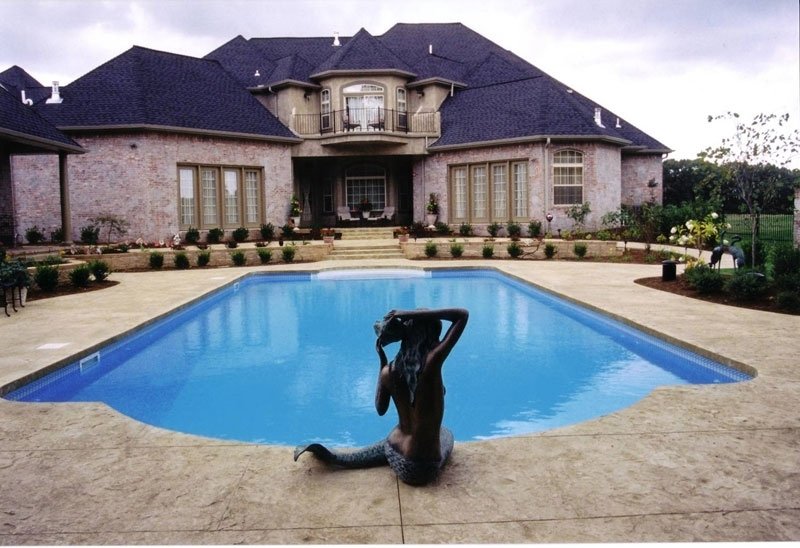 A new swimming pool for your family will be a great way to reach those New Year's Resolutions. You can spend more time with family, be healthier, and reduce stress all in your Fort Smith backyard.
There's no better way to start of the New Year than with a new swimming pool. To help you decide which type of swimming pool is right for you, we've outlined the benefits of each.
Vinyl Liner Inground Pools
One of the main attractions to vinyl liner inground pools is that they are initially less expensive than other types of inground pools. This type of pool offers the same level of customization as gunite or concrete inground pools yet they require less maintenance, and the vinyl provides a soft surface for your feet.
Fiberglass Inground Pools
Fiberglass inground pools may not be customizable like vinyl liner and concrete inground pools, but the list of ownership benefits may make them a top choice for Fort Smith pool owners:
Fast installation

Little weekly maintenance

Less electrical consumption

Built-in features

Minimal lifetime cost
While slightly more expensive than vinyl liner inground pools, a fiberglass inground pool is substantially less expensive than their concrete counterpart.
Gunite Inground Pools
Despite being the most expensive and requiring the most TLC of the inground pools, concrete inground pools continue to serve as the gold standard in luxury pools.
This is largely due to their level of customization. If you dream it, your Fort Smith pool builder can turn your coveted poolscape into a reality with a gunite inground pool. Any size, shape, feature and depth can be incorporated, and these pools can be built into even the most difficult of landscapes.
Above Ground Pools
No "New Year, New Pool" post would be complete without mentioning above ground pools. Above ground pools have come a long way in construction and appearance, and they are a budget-friendly choice for families to still get in some good quality family time and exercise once the warmer weather arrives.
New Year, New Pool with Burton Pools & Spas
Learn more about the benefits of above ground and inground pools with Burton Pools & Spas, your trusted Springdale and Fort Smith pool builder! Call us today at (800) 667-9180.
About Burton Pools & Spa
For 37 years, Burton Pools & Spas has been the premier provider of swimming pools, hot tubs, and outdoor recreation equipment in Northwest Arkansas, Eastern Oklahoma, Southwest Missouri and just about everywhere in between. Burton Pools creates beautiful backyard environment that brings friends and families together for outdoor fun and memories that will last a lifetime.
For more award-winning pool design ideas, pool maintenance and outdoor living tips, subscribe to Burton Pools and Spas latest news and follow them in Facebook, Twitter,Pinterest, and Google+.
Are you're ready to take your backyard to the next level? Sign up now and get the free ebook on "How to Plan the Perfect Backyard" or contact Burton Pools & Spa today.