Why Doughboy Pools Make the Best Christmas Gift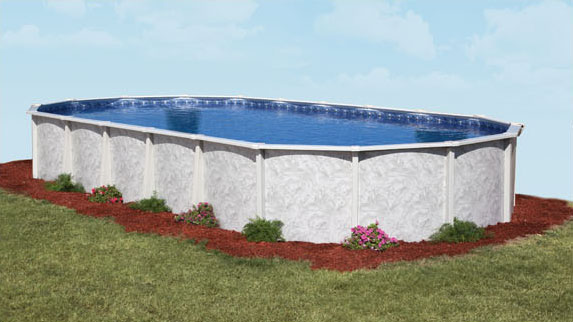 Are you looking for the perfect Christmas present that will be sure to bring grins and looks of sheer joy to the faces of your loved ones? Consider delivering the gift of fun, laughter and a lifetime of memories with a Fort Smith Doughboy Pool.
Doughboy Pools have not only been a leader in the outdoor family entertainment industry for 70 years, their wide selection of American-made pool sizes and shapes make it possible for almost every home and backyard in Arkansas to delight in the luxury and play these pools bring.
Bring the Family Together with a Doughboy Pool
A backyard pool will instantly transform your home and backyard into the place for friends and family to gather on those hot spring and summertime days. Not only does a backyard Doughboy Pool Springdale bring the promise of play and reprieve from our sweltering Arkansas heat, but it will immediately inspire other fun entertaining ideas like backyard barbecues, cookouts, kids birthday parties and more.
Get Everyone out in the Fresh Air
We have far too many excuses these days to stay cooped up in our homes. Unfortunately these excuses encourage a sedentary lifestyle which can promote unhealthy weight gain, poor health and which does little to foster strong bonds with family.
A Springdale backyard pool will get everyone heading outside, whether that be to play, to relax, or to enjoy a good swim. Not only will this promote the health and well being of you and your loved ones, you will also be making lifelong memories with friends and family that you will treasure for years to come.
Fort Smith Above Ground Pools are an Affordable Investment
Above ground pools are a budget-friendly alternative to a costly and time-consuming inground pool. With little construction time and no need to rip up the backyard, a Fort Smith Doughboy Pool can be put together and ready to go within hours!
Make Christmas Shopping Easy with a Doughboy Pool from Burton Pools & Spas
A Fort Smith Doughboy Pool can be completely customized to suit your home and backyard. Both above ground and semi-inground options available, and every pool is designed with longevity, ease of maintenance and safety in mind.
From December 1 to January 15 you can save $500 with Doughboy's Online Layaway Pick your Pool... Pay Later! promotion. Get the details and find your perfect Springdale backyard pool with Burton Pools & Spas by calling (800) 667-9180.
About Burton Pools & Spa
For 37 years, Burton Pools & Spas has been the premier provider of swimming pools, hot tubs, and outdoor recreation equipment in Northwest Arkansas, Eastern Oklahoma, Southwest Missouri and just about everywhere in between. Burton Pools creates beautiful backyard environment that brings friends and families together for outdoor fun and memories that will last a lifetime.
For more award-winning pool design ideas, pool maintenance and outdoor living tips, subscribe to Burton Pools and Spas latest news and follow them in Facebook, Twitter,Pinterest, and Google+.
Are you're ready to take your backyard to the next level? Sign up now and get the free ebook on "How to Plan the Perfect Backyard" or contact Burton Pools & Spa today.