Burton Pools and Spas Anniversary Sale Event
Celebrating 37 Years of Great Customer Service and Quality Products
As we celebrate our 37th year in the industry, we would like to thank our clients, partners, colleagues, family and friends who have been with us and have been our critical partners for our success. And so, as we look forward to more years of good customer service and quality products to create the backyard of your dreams, we reiterate our promise to treat all our customers with respect, courtesy, and professionalism - whether we're discussing construction of a new swimming pool or repairing a broken water pump.
We believe that we are what we are today because of our clients. And so, to celebrate and share our success with our clients, we have compiled the best deals in the industry. From May 1 to 3, get big savings on in-ground pools, above ground pools, and fiberglass pools. We will also be offering a special hot tubs truckload sale from Hot Spring Spas. Joined by ESPN Arkansas 95.3 broadcasting LIVE on Saturday.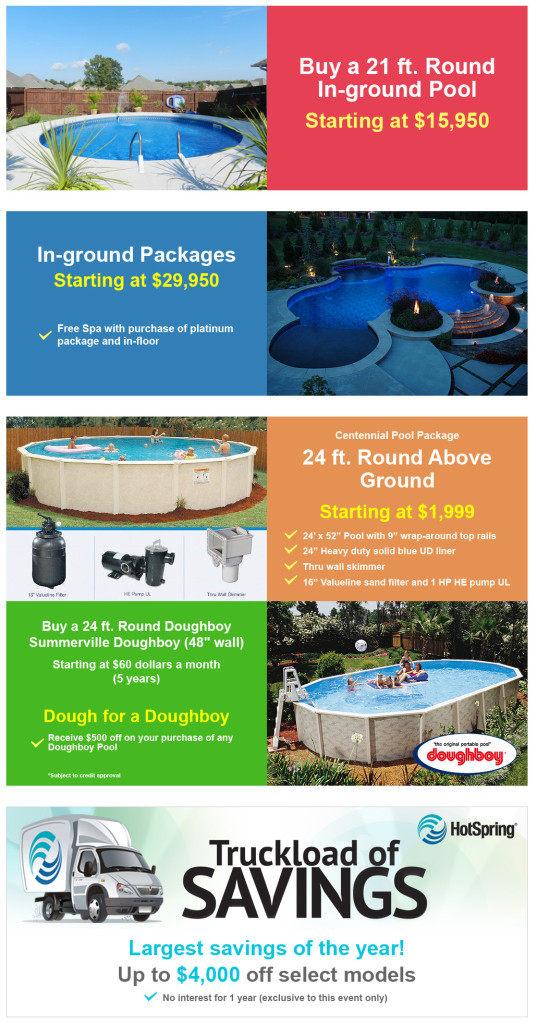 Exclusive Offer - This Weekend Only
Claim a *free colored step ($999 value) with in-ground pool purchase of $29,950 and above. To claim this exclusive offer, please complete the form.
*Offer valid through May 3, 2015. Subject to availability. Terms and conditions apply. See store for details.
ABOUT BURTON POOLS & SPA
For 37 years, Burton Pools & Spas has been the premier provider of swimming pools, hot tubs, and outdoor recreation equipment in Western Arkansas, Eastern Oklahoma, Southwest Missouri and just about everywhere in between. Burton Pools creates beautiful backyard environments that brings friends and families together for outdoor fun and memories that will last a lifetime.
For more award-winning pool design ideas, pool maintenance and outdoor living tips, subscribe to Burton Pools and Spas latest news and follow them in Facebook, Twitter, Pinterest, and Google+.
Are you're ready to take your backyard to the next level? Sign up now and get the free ebook on "How to Plan the Perfect Backyard" or contact Burton Pools & Spa today.