Start Your Filters! Spring is Here!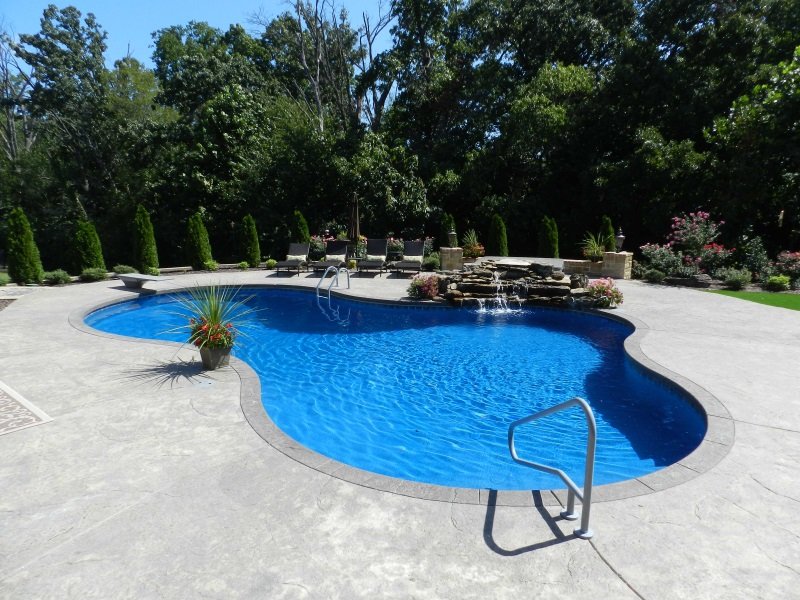 After months of being cooped up indoors due to cold weather, spring is finally here and that first touch of summer warmth is in the air. But before you take a dip in your pool as the temperatures continue to rise, it is important that your spring pool opening goes properly to ensure the health and safety of your pool and its occupants.
STEP 1: TAKE CARE OF THE COVER
Drain as much water as you can from the top of your winter pool cover or solid safety cover with a sump pump, and sweep or blow leaves and other debris off and away before its removal. This serves two purposes:
a) It keeps debris out of your pool; and

b) It will make it easier to close your pool next winter
When you remove the cover, make sure that it is clean and dry. Sprinkle both sides with talcum powder to help prevent the buildup of mold and mildew, fold it up loosely and store it in a cool, dry area.
STEP 2: CHECK THE WATER LEVELS
Your water level should be halfway up the tile or around the middle of your skimmer opening. If you need to top your water off, get that garden hose working and fill up your pool.
If you winterized your pool, please continue reading on. If you did not, skip ahead to Step 6.
STEP 3: RECONNECT ALL POOL EQUIPMENT
You will need to make sure all of the following is properly reconnected:
Filter

Pump

Heater

Flexible plumbing lines (for above ground pools only)
STEP 4: TAKE OUT WINTER PLUGS AND RE-ATTACH DRAIN PLUGS
Winter plus may be present in your pump, heater, filter, booster pump and pool cleaners. Reinstall the normal drain plugs, and then move on to the winterizing pool plugs from your skimmer and return lines after ensuring that all antifreeze has been removed. Reconnect return valve fittings that were removed during the winterizing process.
STEP 5: GET YOUR SYSTEM UP AND RUNNING
Now is the time to turn your pool equipment back on. Prime the pump, turn on the filtration and circulation system, and open up your filter's air relief valve to remove air from the system.
STEP 6: TEST THE CHEMISTRY OF YOUR POOL
Run the circulation system for 24 hours or so before you test the chemistry of your pool. Your pool should be within the following ranges:
Total Alkalinity (TA) – 80 to 120ppm

pH – 7.4 to 7.6

Chlorine – 2.0 to 4.0ppm
STEP 7: ADJUST YOUR CHEMISTRY AS NECESSARY
You can largely control the levels of pH and chlorine in your pool by first adjusting its TA.
If your TA is too high, you can use dry acid (sodium bisulfate) to reduce levels to an acceptable range

If your TA is too low, you can use sodium bicarbonate to increase it
You should wait at least 4 hours (or however it is otherwise recommended on the packaging label) after adding to retest your pool water.
STEP 8: TACKLE THE PH BALANCE AND CALCIUM HARDNESS
When your TA is between 80 to 120ppm, you can begin adjusting your pH levels as necessary.
If your pH is above 7.6, try adding dry acid (sodium bisulfate) or

muriatic acid

If your pH is below 7.2 use soda ash to bring it back to acceptable levels
Wait at least 4 hours for the pH level to settle. You can then test and adjust your calcium hardness so that it is above 150ppm. Calcium chloride can be used to increase the calcium hardness which will prevent pitting in your concrete, plaster and pebble tec.
STEP 9: BRUSH, VACUUM AND FILTER
Once the chemistry has been adjusted, give your pool walls, floor, steps, ladders and other equipment a good brush down. Re-attach any other items which you may have removed (such as slides, basketball hoops, etc.). Vacuum the pool and run your filtration system overnight to eliminate any dirt, bacteria, debris and algae that may still be present.
STEP 10: SHOCK YOUR POOL
Whenever you add chlorine to your pool water, the chlorine molecules naturally attach themselves to algae, debris and other unwanted material. This forms what is known as a chloramine.
This "dead chlorine" should be removed from your pool. This is why it is usually recommended that you shock your pool before taking that first refreshing swim of the season.
SAVE TIME WITH BURTON POOLS & SPAS IN ARKANSAS AND SOUTHWEST MISSOURI
Opening your pool for the spring can be a hassle. Let Burton Pools and Spas in Arkansas ease your burden and take care of that spring pool opening for you so that you have peace of mind in knowing that has been done right and that your pool is ready for the summer.
For a limited time Burton Pools and Spas is offering $50 off of spring pool openings! Contact us today to arrange for your appointment at (800) 667-9180.
About Burton Pools & Spa
For 37 years, Burton Pools & Spas has been the premier provider of swimming pools, hot tubs, and outdoor recreation equipment in Northwest Arkansas, Eastern Oklahoma, Southwest Missouri and just about everywhere in between. Burton Pools creates beautiful backyard environment that brings friends and families together for outdoor fun and memories that will last a lifetime.
For more award-winning pool design ideas, pool maintenance and outdoor living tips, subscribe to Burton Pools and Spas latest news and follow them in Facebook, Twitter,Pinterest, and Google+.
Are you're ready to take your backyard to the next level? Sign up now and get the free ebook on "How to Plan the Perfect Backyard" or contact Burton Pools & Spa today.