6 Things to Consider When Planning a Hot Tub Installation
These days, owning a hot tub is considered by many to be a necessity more than a luxury. When it comes to physical health and emotional renewal, your backyard hot tub might just be your new best friend! While hot tub installation is a straight-forward and generally simple process, there are a few things you need to know as you prepare. We've outlined 6 things you should consider when having a hot tub installed.
1. Placement
Choosing that perfect spot for your new hot tub may not be as simple as you think. When it comes to hot tub placement, there are a few things you need to consider.
Indoors or Outdoors?
You've probably already decided whether you'll be installing your hot tub inside or outside. Hopefully you made this decision before choosing your hot tub model, as indoor installation can be trickier and may require more work to meet engineering and safety requirements.
Ventilation
If you plan on installing your hot tub indoors, you'll have to take extra steps to ensure adequate ventilation. Exhaust fans will have to be installed to circulate air around the hot tub and control humidity. Too much moisture can damage your home's walls and flooring. Our installers will also recommend a humidistat to regulate the moisture in the air and activate the exhaust fan automatically when needed.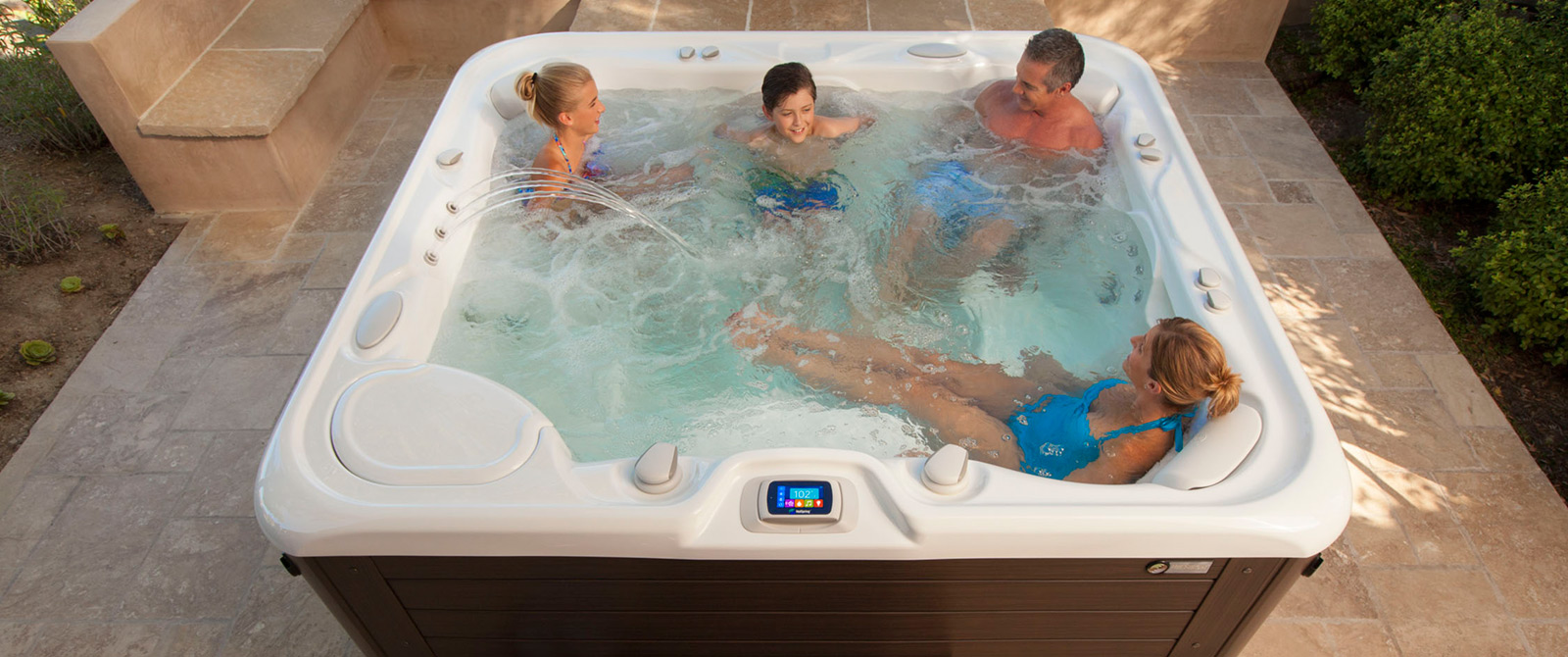 2. Electrical Supply
Your hot tub will need to be hardwired to a dedicated power supply that has no other lights or appliances connected to it. Your hot tub configuration requirements will be determined on the model you choose. A skilled and qualified electrician will need to install the power supply and adapt your breaker box. Our installation crew can help coordinate this process.
3. Space
There must be enough room not just for movement or getting in and out of your tub, but also for maintenance. You'll need to choose a location that allows for easy access to the inner workings of the hot tub. We recommend leaving at least 30 inches around all sides and back panels of the hot tub.
4. Privacy
Most people want their hot tub to be a relaxing escape. It may be hard to unwind with your neighbor's 5 year old making faces at you from their upstairs window. Choose an area of your yard that offers some barriers (built or natural) from the sounds and views of surrounding homes. Common choices are arbors and hedges. Just keep in mind that overhanging vegetation can be a nuisance when it falls into your hot tub.
5. Safety
Plan for additional fencing or safety locks on gates to keep local kids and small animals from wandering in. Covering your hot tub whenever you're away will also improve security.
6. Foundation
Your hot tub must be placed on a leveled ground with a strong foundation. An inadequate foundation may pose a safety hazard and can damage the hot tub. Damage caused by inadequate foundations are not covered by warranty.
Quick Tip: Don't Forget About Local Permits and Regulations
Not all cities require building permits when installing hot tubs in a backyard. However, it is best to check with your local government and comply when necessary. Our hot tub crew can help familiarize you with local codes and ordinances that may have an affect on the installation process as well as any permitting required. You may also have to follow certain rules when choosing location, such as the space between your home and your hot tub clearance from overhead power lines and the spa panel.
Clearly, choosing the right place for your hot tub is a big decision to make. Take time in selecting the perfect spot that provides adequate support, shelter, and access to ensure that your new space is the backyard oasis that you want it to be.
ABOUT BURTON POOLS & SPA
For 37 years, Burton Pools & Spas has been the premier provider of swimming pools, hot tubs, and outdoor recreation equipment in Western Arkansas, Eastern Oklahoma, Southwest Missouri and just about everywhere in between. Burton Pools creates beautiful backyard environments that brings friends and families together for outdoor fun and memories that will last a lifetime.
For more award-winning pool design ideas, pool maintenance and outdoor living tips, subscribe to Burton Pools and Spas latest news and follow them in Facebook, Twitter, Pinterest, and Google+.
Are you're ready to take your backyard to the next level? Sign up now and get the free ebook on "How to Plan the Perfect Backyard" or contact Burton Pools & Spa today.