5 Pool Water Conservation Tips for Arkansas Pool Owners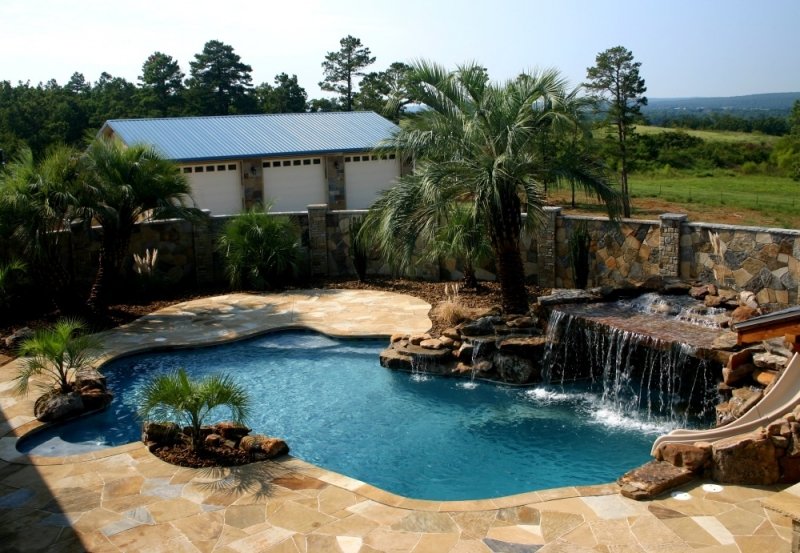 Having a swimming pool in Arkansas does mean needing to use more water than the average non pool owner. But pool owners can be smart about how they preserve their water and significantly decrease their pool water loss by practicing these 5 pool water conservation tips:
Cover Your Pool
You will lose a lot of water during the hot summer months due to water evaporation. By covering your pool whenever it is not in use, you can reduce this evaporation by as much as 97%. This means less pool refills, as well as better pool water heat retention and less debris in your water.
Routinely Check for Leaks
When performing your regular maintenance rounds, see if there is any pool water in places it shouldn't be. A soggy lawn or inexplicable changes in water levels may indicate a pool leak. Check the pool and its components, and strongly consider calling a professional to investigate and repair your pool.
Refill Your Pool in Spring and Fall
Choosing to refill your pool in early spring and November rather than during the summer time will result in less water wasted due to evaporation. Another benefit is that since water isn't in such high demand during these seasons, most can fill their pool in the spring or fall more inexpensively than if they do so during the summer.
Don't Overfill
While on the topic of refilling the pool, make sure that you do not unnecessarily overfill your pool. Grab your hose and add only whatever inches are necessary on the day you are scheduled to water your lawn. Some may choose to use an auto-fill device, though a hose timer is usually more accurate.
Add Splash Troughs
Splashing during the summer months is usually the primary cause of losing significant amounts of pool water in a week. Pool owners can minimize their water loss by having splash troughs installed around the pool. These very shallow lanes are able to capture most water that has splashed or spilled out of the pool and then channel the water directly into your pool.
About Burton Pools & Spa
For 37 years, Burton Pools & Spas has been the premier provider of swimming pools, hot tubs, and outdoor recreation equipment in Northwest Arkansas, Eastern Oklahoma, Southwest Missouri and just about everywhere in between. Burton Pools creates beautiful backyard environment that brings friends and families together for outdoor fun and memories that will last a lifetime.
For more award-winning pool design ideas, pool maintenance and outdoor living tips, subscribe to Burton Pools and Spas latest news and follow them in Facebook, Twitter,Pinterest, and Google+.
Are you're ready to take your backyard to the next level? Sign up now and get the free ebook on "How to Plan the Perfect Backyard" or contact Burton Pools & Spa today.